How far is mallorca from barcelona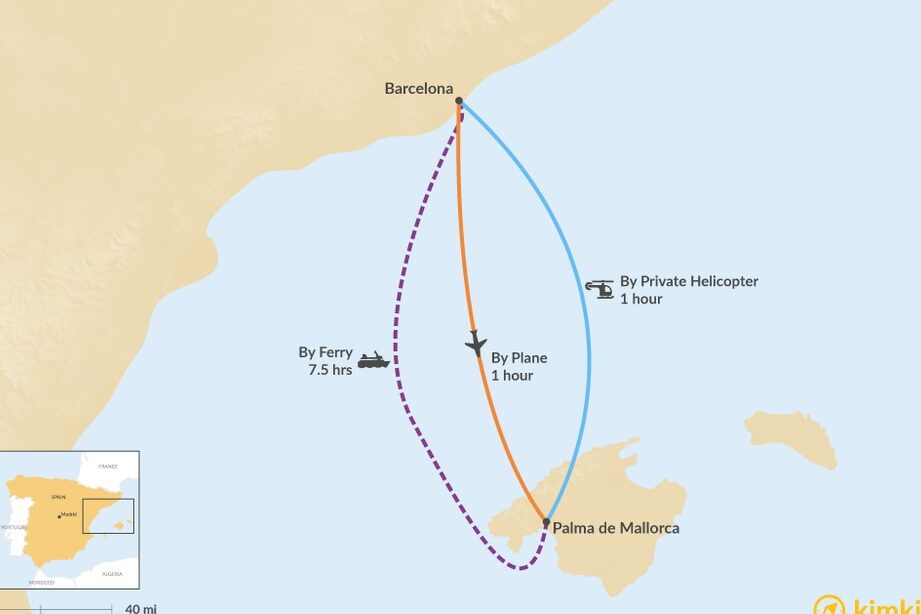 How far is Mallorca from Barcelona?
Are you planning a trip to Spain and wondering how far Mallorca is from Barcelona? The answer is approximately 209 kilometers (130 miles) by plane, and around 215 kilometers (134 miles) by ferry.
Flying to Mallorca from Barcelona
The quickest and most convenient way to travel to Mallorca from Barcelona is by plane. There are several airlines that offer daily flights from Barcelona to Palma de Mallorca, the capital city of the Balearic Islands. The flight time is around 45 minutes, and prices vary depending on the airline and the time of year.
To get to the airport in Barcelona, you can take a taxi, a bus or a train. The Aerobus is a direct bus service that runs from Barcelona city center to Barcelona-El Prat Airport every 5-10 minutes, and the journey takes approximately 35 minutes.
Once you arrive at Palma de Mallorca airport, you can take a taxi or a bus to your final destination. Taxis are readily available outside the airport terminal, and the journey to Palma city center takes around 15-20 minutes. The bus is a cheaper alternative, with a regular service running between the airport and the city center.
Taking the Ferry from Barcelona to Mallorca
If you prefer to travel by sea, you can take a ferry from Barcelona to Palma de Mallorca. The ferry journey takes around 7-8 hours, and there are several companies that operate this route, including Balearia and Trasmediterranea.
The ferry departs from the port of Barcelona and arrives at the port of Palma de Mallorca, which is located in the city center. The journey is comfortable and offers stunning views of the Mediterranean Sea, but it is a longer journey than taking a plane.
Conclusion
In conclusion, the distance between Mallorca and Barcelona is not significant, and there are several options available for traveling between the two cities. If you are looking for speed and convenience, flying is the best option, while taking the ferry is a great choice for those who enjoy sea travel and have more time on their hands.